Spinach leaves turn yellow with age naturally. Spinach is succulent and has rich green leaves. However, if you observe yellowing at a young age in spinach leaves then it might be a problem. Growing spinach can be accompanied by various problems and spinach leaves turning yellow is also one of them and quite a common one. 
Generally, healthy spinach leaves are dark green. But yellow leaves in spinach plants can occur due to various reasons. These are discussed below in detail- 
Factors leading to yellowing of spinach leaves
There can be various reasons that can lead to yellow leaves in spinach. Situations leading to this problem can be diseases or unhealthy soil conditions. Too much heat and water can also cause the yellowing of leaves. Further, nutrient deficiency caused by lack of compost or fertilizer use also results in the same. It can be a little difficult at times to judge the problem and work on solutions with so many possibilities. Along with this, the temperature is also a yellowing causing factor.
Symptoms of certain diseases can be the same as improper soil conditions. To add to this, boron deficiency and fusarium wilt disease cause the same symptoms in spinach plants.
Fusarium wilt
Fusarium wilt also known as fusarium yellowing is a fungal disease. This disease causes the yellowing of spinach leaves. It also stunts the growth of plants. It infects the vascular tissues of the plant. Causing agents of this disease live in soil and can be carried easily by cucumber beetles.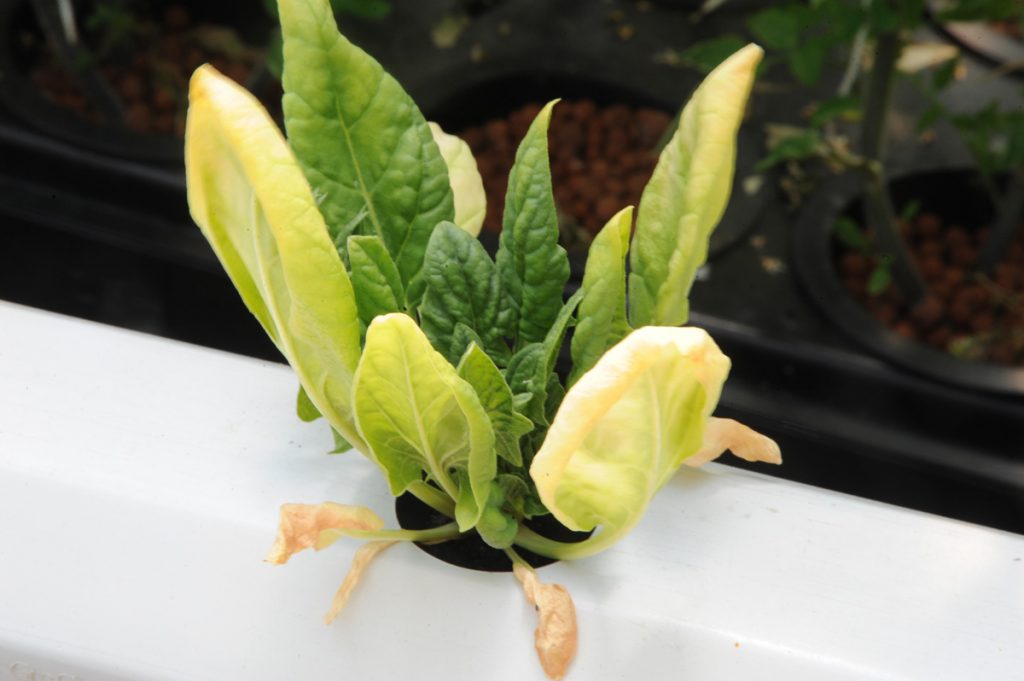 Nutrient deficiency
Various nutrient deficiencies can lead to the yellowing of leaves in spinach. Either insufficient amounts of nutrients or lack of nutrients can develop this situation. Nutrient deficiency can be due to low or high soil pH. Also, sometimes nutrients do not get absorbed due to damaged roots. Yellowing can be caused due to deficiencies of manganese, boron, magnesium, zinc, or nitrogen. 
Iron- this deficiency is caused due to waterlogged soil. Veins remain green sometimes but leaves turn yellow. Yellowing in this case starts in younger leaves then moves to older leaves. 
Magnesium- yellowing areas between veins of older leaves are observed in magnesium deficiency. 
Nitrogen- all leaves become yellow in nitrogen deficiency. It first occurs in lower older leaves. Nitrogen present in plants moves to new young leaves thus causing old yellow leaves. 
Boron- boron deficiency causes yellowing and stunted growth in spinach. 
Must Read: Why Are My Papaya Leaves Wilting
Spinach can be affected by various elements and problems can be caused by them.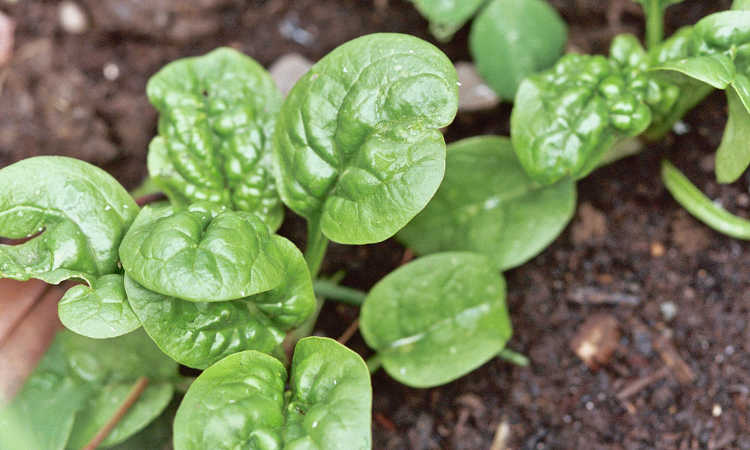 Growing crops in the wrong season can cause defective growth. The best time for the growth of spinach is early spring. Seeds should be sown a few weeks before summer. Next, late summer sowing can be performed for a cool fall harvest.
Seedling not germinating- if seeds are sown too shallow then they do not get the required conditions and fail to germinate. Dry conditions and too high temperature can also lead to this condition. The soil must be moist and noncompact.
Eaten or cut off leaves- Cutworms are found curled under the soil. They eat and damage stems, roots, and leaves. a 3-inch paper collar should be formed at the base of the plant to avoid this.
Dark water-soaked stems- High humidity, cool and moist soil causes fungus growth. To avoid, the soil should be well-drained.
Bolting- plants and flowers bolt before leaves are ready to harvest. Too much sunlight and warm temperature cause bolting.
Leaf curling- deforming, yellowing, leaf curling can be caused by aphids.
Round water-soaked spots- this is caused by a fungus known as anthracnose. It develops in highly humid conditions. Plants can die back and infected plants should be removed and thrown away to avoid further spread of disease.
Why are my spinach leaves turning white?
why spinach leaves turning yellow, spinach growing problems, spinach leaves turning white, why are my spinach leaves turning white, why is my spinach turning yellow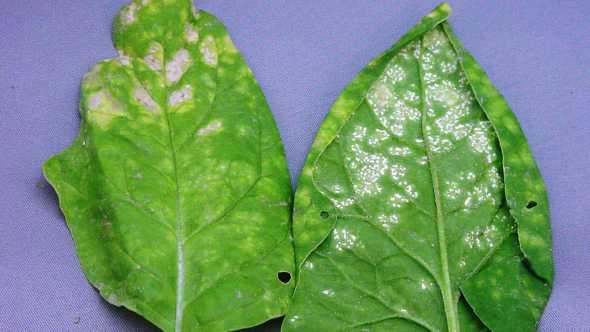 Spinach leaves turning white can be a symptom of a disease called white rust. This disease is caused by Albugo occidentalis. Symptoms at the initial stage resemble downy mildew symptoms. It can be difficult to differentiate between the two. However, at further stages, you can distinguish between them. 
Chlorotic spots start appearing on the upper side of spinach leaves. These turn white eventually and give the appearance of white leaves. When the white blisters release spores, they turn reddish-brown.
It Can cause wilting and death of plants in end. Fungicides can be used to prevent it.
Prevention measures
To prevent such a situation, you must take care of a few things mentioned here. Otherwise, you will continue to grow plants that are unfit for consumption. The soil must be well-drained and not compact. Loose and properly irrigated soil ensures the good growth of spinach plants. It would be rich in organic matter which contains necessary nutrients. The pH of the soil should be 6.4-6.8 for healthy growth. Yellowing or bolting can be caused at temperatures above 75 degrees. 
Also Read: How To Plant Spinach? Here Is Everything You Need To Know
You can avoid high temperatures by planting spinach in early spring or fall. Insect diseases caused by aphids can be prevented by using natural aphid predators like ladybugs and other insects.
The fungal and viral disease can be caused by clean growth and usage of resistant varieties.
Cure
You need to be aware of problems that lead to yellowing leaves in spinach first to cure them. In case of a pest attack, insecticidal soap can be used to remove pests. Fungicides can be used to treat the fungal disease like fusarium wilt. However, virus-infected plants should be removed and thrown away to stop the further spread of disease. 
If soil is too acidic, consider adding lime. And if the soil is too alkaline then you can add coffee ground or commercial acidifiers to make pH acceptable.
Add compost to the soil to balance the pH of the soil.
Organic compost or fertilizers can help overcome nutrient deficiencies.
You must test the number of nutrients present in soil so that the proper amount of nutrients can be added manually. Adding nutrients vaguely can increase certain nutrients and affect plants negatively.
Conclusion
Growing spinach can be accompanied by various problems but a little care and thought while growing them can prevent disease and such problems. Preventive measures are taken before can produce healthy and edible crops.