Raising and nurturing quails for commercial purposes, like many other poultry birds, is known as "quail farming." It is an immensely profitable business, especially for small farmers struggling with their budgets. As a quail farmer, you can produce both eggs and meat and make decent money by selling them.
Raising quail is surprisingly easy, entertaining, and lucrative. You don't have to do a lot of work to maintain your quail farm, because quails are one of the smallest poultry birds and are pretty easy to maintain.
Japanese scientists are known for starting the farming of quail birds, and the commercial quail farming gained a lot of property in Japan, and then almost all around the world. Like all other bird farming ventures, including chicken, duck, and turkey, quail farming is very profitable. You can start your quail farming business without thinking much about the area, conditions, and weather, etc. In this guide, we are trying to deal with various aspects of quail farming. Let's discuss everything in detail.
Also Read: The A to Z of Commercial Sheep Farming – A Step to Step Guide
Why quail farming is a great business idea?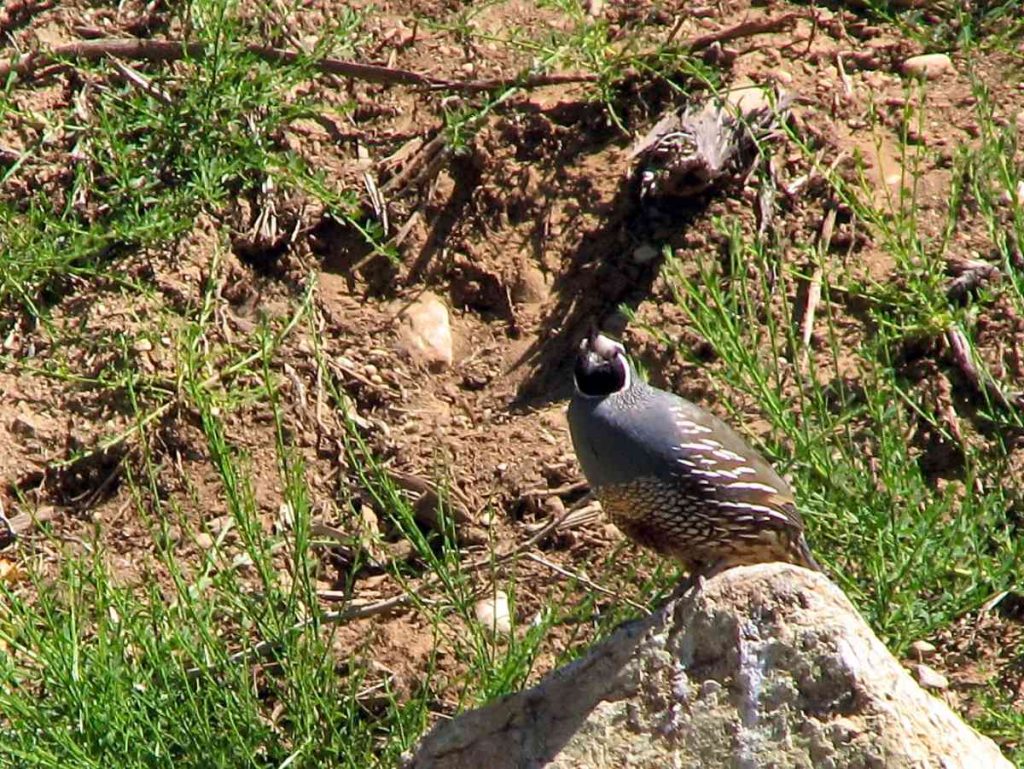 Quail eggs are considered as the most nutritious eggs, especially when compared to other poultry eggs.
These little eggs are even suitable for diabetic patients.
Quail eggs contain a decent amount of protein, iron, phosphorus, vitamin A, B1, and B2.
The demand for food and nutrition is only increasing with time, and quail bird farming can play a crucial role in meeting that demand.
Farming of quail birds requires very small initial labour and capital.
Farmers can raise quail birds even with other poultry birds for egg and meat production.
They are very small in size, and hence it is very easy to raise a lot of birds in a small area.
The average weight of an adult quail is between 150 to 200 grams, and the weight of eggs is around 7 to 15 grams.
Female quails usually start laying eggs at the 6th or 7th week of their life, and they can continuously lay one egg every day, of course, if they remain healthy.
A healthy female quail lays as many as 300 birds in the first year of its life. The production of eggs reduces gradually after the first year, and the bird produces almost half the number of eggs in the second year.
The Californian quail is considered as the most beautiful and handsome of all quail breeds around the world. It is California's state bird since 1932 and is mainly raised as a pet or simply as a hobby.
Quail egg is very healthy for humans, as it contains 2.47% less fat than a chicken egg.
A lot of people also believe that quail egg helps prevent diabetes and blood pressure.
Like other birds, quail don't incubate their eggs themselves. You will have to use brooder chickens or an incubator to hatch their eggs.
Life cycle and laying habits of quail birds
A healthy quail usually survives for 3 to 4 years. The average weight of a newly born quail chick is around 6 to 7 grams. They are very weak and sensitive in the beginning and become stronger after a couple of weeks. As mentioned earlier, they don't incubate their eggs at all, and hence, you should keep one male quail for every five female quails. Quails generally lay their eggs in the afternoon, and the presence of decent light enhances the egg-producing capacity of quails. Eggs weighing around 9 to 11 grams having a hard and smooth shell are ready to hatch and produce chicks.
Starting a quail farming business
Quail bird farming is very easy and straightforward to start, as it doesn't require a huge space. But having a proper business plan can make life very easy for you. Your plan should include breeding, feeding, caring, housing, and strong marketing strategies. Let's have a look at the initial steps for a successful quail farming business.
Selecting from a wide range of quail breeds
Presently, there are as many as 18 quail species are available. It means the scope for profit is immense. Some of the species are suitable for meat production, while some are very good for producing eggs. So, if you are clear whether you will be raising quail for meat or eggs, it will be massively helpful for the future. Some of the most popular quail breeds for farming are mainly divided into two groups.
Layer Quail Breeds
British Range
English White
Pharaoh
Tuxedo
Manchurian Golden
Broiler Quail Breeds
American Bobwhite
Indian White-Breasted
Management Practice
This is massively important if you want to keep your quails healthy. Clean the cage thoroughly at least every couple of weeks to prevent diseases due to bacteria and mites. Wash the water containers and feeders regularly, and refill them every day with fresh food and water.
Ensure decent enough exposure of light to your quails. It doesn't matter what types of quail you are raising; proper lighting is a must. Almost all quail breeds need at least 8 hours, but not more than 15 hours of lighting.
Keep the surrounding calm.
Avoid unnecessary noise around the quails. Try to keep the surroundings as calm as possible. A noisy atmosphere can be dangerous for quails like most of the other farming birds. Quails need proper sleep to stay active, funny, and healthy. Either transfer them in a dark room in the evening or adjust the place accordingly to balance enough light throughout the day and darkness after evening.
Don't forget to collect eggs daily.
If you want to have fresh and healthy eggs, ensure collecting them at once every day, especially during summer. Try to keep eggs in a cool place; keeping them in a fridge is a great idea!
Taming is important, as well as a tough part of raising quail. It is pretty challenging to tam the fully-grown quail. But, if you know how to handle them, it can be fairly easy. Try grabbing them and playing with them occasionally. Offer them foods with your hands, visit them multiple times throughout the day. In short, always be very gentle while taming your quails.
You wouldn't want to do this, but you don't have any other option either! Unlike chickens and ducks, quails are amazing flyers, and they can go a very long distance, especially if they are afraid. Clip their wings regularly to ensure they don't fly easily. Sounds a bit harsh? But, that's the part of bird farming business.
If you want to gain decent profit through your quail farming business, feeding your quails adequately is very important. Provide them with healthy, nutritious, and well-balanced food. And they don't require a lot of food either! A healthy quail munches on only 20 to 30 grams of food in a day! That's it! Feed them with healthy and fresh foods to maintain their health and, in result, decent productivity.
Here is the age-wise diet chart for raising quail healthily
Ingredients
Age
0-3 Weeks
4-5 Weeks
Adult
Broken wheat
48
50
50
Sesame cake
23
22
22
Kipper fish
20
16
14
Rice Bran
6
8
9
Broken oyster shell
2.25
3.25
4.25
Salt
0.50
0.50
0.50
Mineral mix
0.25
0.25
0.25
Total (percentage)
100
100
100
In addition to ensuring a healthy and nutritious diet, you will also have to maintain the availability of enough fresh and clean water for your quails. They won't drink a lot of water, but there should be multiple pots of water every time so that they can drink whenever they want.
As already discussed earlier, quails need adequate light to produce eggs on time. Providing artificial heat and light is also a great idea.
To maintain the breeding process properly, keep one male quail for every five females.
Keep the surrounding very clean as well as dry.
Select highly productive breeds to ensure better egg production.
Different types of quail at different ages need different periods of light. You can understand this through this chart.
| | | |
| --- | --- | --- |
| Age | Temperature (Celsius) | Light (Hour) |
| 1 Week | 35 | 24 |
| 2 Week | 30 | 24 |
| 3 Week | 25 | 12 |
| 4 Week | 21-22 | 12 |
| 5 Week | 21 | 12 |
| 6 Week | 21 | 13 |
| 7 Week | 21 | 14 |
| 8 Week | 21 | 15 |
| 9 Week | 21 | 16 |
| Beyond Ninth Week | 21 | 16 |
Some essential equipment to keep your quails healthy and happy
Quails are pretty small in size. And hence, all types of quail need small containers of water. Avoid placing deep too deep containers to ensure they get water very easily, and to avoid the risk of drowning. Keep the container full of fresh, clean water.
To ensure feeding all birds adequately, keep the number of feeders equal to the number of birds. Your aim should be to ensure all the birds can have easy access to both food and water.
Quails love small plants, and if you can pot a few small plants around their housing, they will be very happy. Quails are very curious about their surroundings and love a little bit of nature around them. Just ensure that the plants are not toxic to your quails.
Provide enough hiding spots
Quails love small hiding spots. And you can provide those spots by placing a few large hamster huts inside the cages.
Dust is a massively important part of quails' survival. They need a dust bath on a daily basis to be happy and healthy. And dust can also play a key role in keeping parasites away. Place a few sand tubs around the quails, but away from water containers to make your quails feel comfortable.
Diseases affecting quails
Diseases are not very common in quails as compared to poultry birds like chickens and ducks. Proper care, clean atmosphere, and healthy nutrition, etc. are enough to avoid diseases while raising quail. Although diseases in quails are not common, a couple of diseases noticed in quails are:
It is the most common condition affecting quail. Improper hygiene around the quails is responsible for this condition, as the protozoa invade the intestinal walls of quails. Some clinical signs of coccidiosis are diarrhea with a bit of blood, decreased feed and water consumption, sudden weight loss, ruffled feathers, and droopiness, etc. If you notice any of these signs, don't waste any time and contact a qualified veterinarian.
TIP: You can mix two grams of coaxial 20 per two-liter of water and give them thrice a day to manage coccidiosis.
Must Read: Growing the Avocado – The Healthiest food
It is a highly contagious, acute condition affecting chickens and quails. Bacterium clostridium colinum causes this disease. There are ulcers in the caecae and intestines of the quails. Ulcerative enteritis is the biggest cause of quails' death worldwide, with a mortality of 100%! Clinical signs may include drooping wings, listlessness, watery white feces, anemia, diarrhea, ruffled feathers, retracted necks. Ulcerative enteritis can completely derail your efforts of quail bird farming. Therefore, even in one bird, if you notice any of these symptoms, don't waste any time and give proper treatment. Otherwise, it won't take so long to affect all other birds!
TIP: One-gram streptomycin with a little amount of water is pretty effective against ulcerative colitis. But you should not forget to get in touch with a veterinarian.
So, that's all about our guide for quail farming. Whether you are raising quail for meat or eggs, you should keep these basic but important points in mind. If you are smart enough, you can earn decent benefits from this low investment farming. Hopefully, you are now in a better space to start your own business. Both quail meat and eggs are a rich source of nutrients and are in demand from shop owners and the general public. Don't think much about marketing scopes, as you will find it pretty easy to market your products. Good luck for the future!