The tasty nutritious pineapple fruit has its popularity matched to mango fruit. Its yummy tangy flavor and appearance make it familiar with people.
How do pineapples grow? Is it profitable to grow a pineapple? How to plant a pineapple? These are some common queries that come to your mind when planning for pineapple farming.
This fruit is high in Vitamin A and Vitamin B. Also, has traces of Vitamin C and minerals, iron too. Caribbean, South, and Central America are the largest producers of pineapples, India holds the fifth position. Here is an overview of pineapple cultivation.
In India, it is popularly known as ANANAS. Here, Karnataka, Kerala, Goa, Bihar, and North-eastern states cultivate pineapple abundantly.
Preparing land for pineapple farming
Plowing, digging, and leveling are done step by step to get the land ready for pineapple farming. In the case of trenches, a space of 165 cm from center to center is required.
Treatment for suckers
The suckers need to be sorted, healthy or unhealthy. Then the healthy ones should be eliminated from unhealthy ones.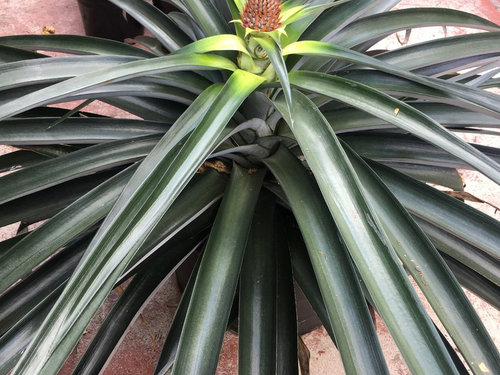 The healthy ones are dried in the shelter and then dipped in Bordeaux mix before plantation.
The Necessity for pineapple farming
To ensure the best yield for pineapple farming always remember, a coastal and humid climate is necessary.
Season favorable for pineapple farming
The flowering season for pineapple farming is between December and March. It is advisable to maintain a gap of 12-15 months from the flowering season.
A heavy rainfall period is avoided for plantation, so it is done before the onset of monsoon rains. Too much rain in the early stage will ruin the pineapple plantation.
Soil requirement
For pineapple cultivation, sandy loam soil is a perfect choice to be made. Though alluvial and laterite soil is also ideal for pineapple cultivation.
The basic theory behind this is it should be free from waterlogging. Also, the acidic content should be between 5.5-6.0.
How often do we need to water a pineapple plant?
Normally, pineapple cultivation is done in tropical places enriched with a humid climate. So, the water intake of the fruit is sufficient.
No artificial irrigation is required. But when planting on a commercial basis there might be a need for additional water to get a healthy grown delicious fruit.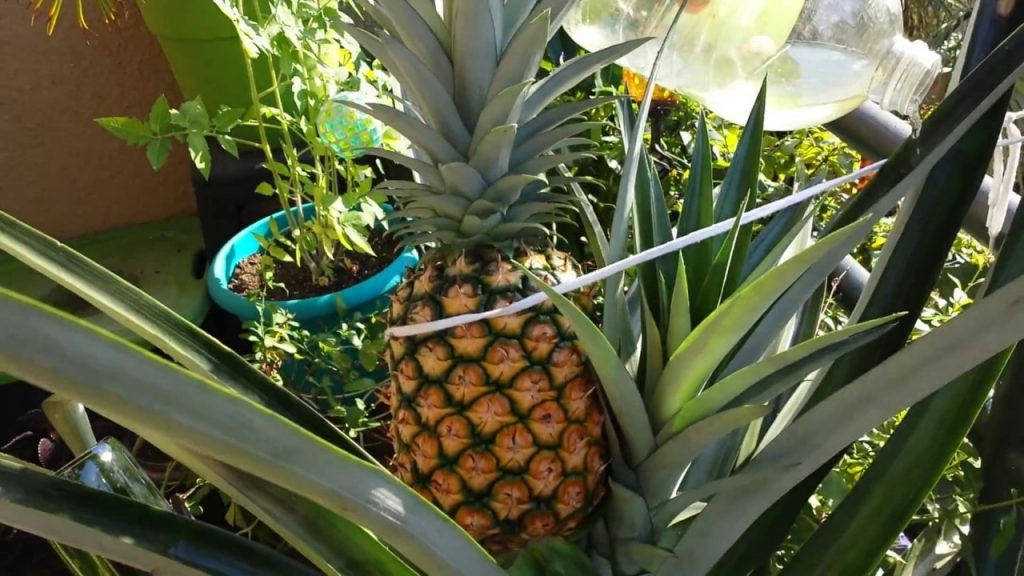 Artificial irrigation helps retain water during the offseason to nourish the plant. Thereby, facilitating water supply in deficit regions as well.
In such cases, you need to water a pineapple plant twice a week.
Also Read: Guava Farming: Planting, Spacing, & Cultivation Guide
How do pineapples grow
Let us know how do pineapples grow? To grow pineapples a set of 4 techniques is applied like flat-bed, furrow, contour, and trench.
This is entirely dependent on the land and rainfall pattern of the area of cultivation. A contour planting is generally practiced to curb soil erosion.
To give good support, the plant -soil is moved towards the trench area. The flat-bed planting pattern is adopted as the pineapple roots are very hollow. This is how pineapples grow.
Diseases of the pineapple plant
It is a pest-free crop, though in some severe cases scale insects and bugs are its worst enemy.
Fertilizers for pineapple crop
Pineapples are high in potassium and nitrogen requirement. For good pineapple farming, they are harmful to the soil, so they are applied in minimum quantity as per the requirement.
Nitrogen is generally divided into 6 doses. The first is applied after 2 months of cultivation and the last one before 12 months of harvest.
Similarly, potassium is given in 2 doses. Half can be applied after planting and the remaining after 6 months from the plantation.
Pineapple harvesting
After 12-15 months of planting, the pineapple crop bear flowers. It takes a complete 15-18 months to get a fully grown pineapple fruit.
The growth of pineapple depends upon the climate, temperature, variety of pineapple, size, and type of plant material.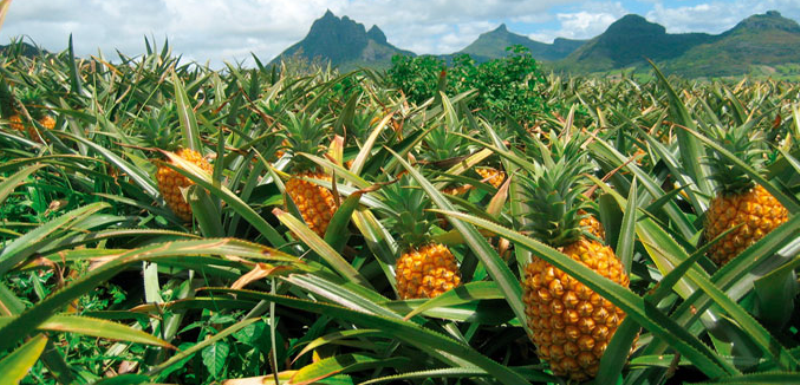 The month of May-August is the time for pineapple harvesting. After 5 months of flowering, the plant bears fruit.
For canning purposes, the fruits are extracted from the plant when the fruit is not fully grown. For table use, you have to wait till it has attained a golden yellow color.
Steps involved pineapple plantation
Pineapple farming involves a series of to be followed to ensure a good fruit.
Earthing: Pineapple is a hollow root plant. If they don't get sturdy support, they tend to bend. To render support to the fruit the soil is moved towards the trench.
Weeding: The most common weeds in pineapple farming are nutgrass and hariyali. It is done to make sure the good growth of the pineapple fruit.
Mulching: When grown as a rain-fed crop means, dependent on rainwater. It is an important step. The idea behind this is to store water for an adequate water supply.
Ratoon crop: Rotation crop farming is generally practiced in India. The cropped part of the fruit is used as a base for the next farming cycle.
Unusual behavior in pineapples
This is a big reason to worry, as to remain in demand pineapples must have to be perfect in taste and appearance. Else they get neglected.
Though pineapple farming is free from any sort of infection and all still there are few challenges.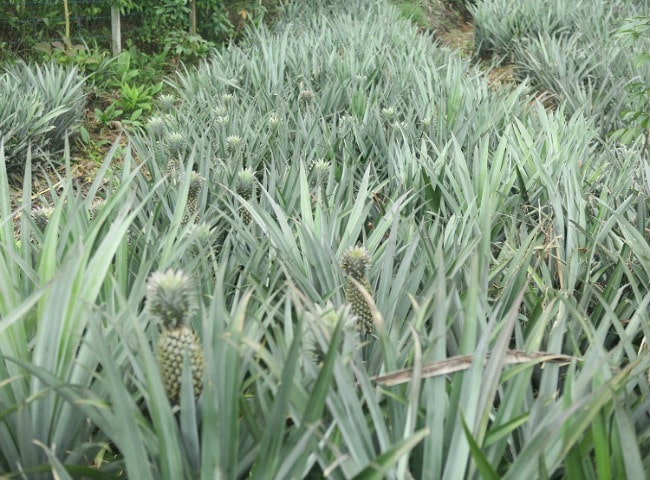 More than one crown: In some cases, the fruit might develop more than one crown. In this, it gets de-shaped. Broad from the upper portion and pointed from below. Making them non-eligible for canning.
Slips collar: This happens when a large number of slips appears from the base. It leads to small-sized fruit with too many slips overlapping.
Must Read: How to Nurture the Dragon Fruit –An Exotic Tropical Fruit
Storage and market
A decent time of 15 days can be ensured to store the pineapples without removing the crown.
For transporting the fruit to the market, they should be stored in a cool place or refrigerator at a temperature of 10-13 degrees.
Pineapple farming has a lot of market demand. It should be noted that the fruit is easily accessible to the market, to avoid losing its charm.
This lovely crown shaped fruit is adored not only for its taste and appearance but also has some benefits as well.
Rich in Vitamin C: It is enriched with Vitamin C which indicates a capacity to curb heart and joint diseases.
Rich in fiber content: This helps in keeping the intestines healthy.
Helps in removing excess mucus.
Helps in weight loss.
Conclusion
You need not worry about the profitability of pineapple farming. It has already made deep roots in the market. They have a loud market domestically or internationally.
Sold on huge margins, still have the monopoly in the market. Can be consumed in multifarious ways. Jams, fruit, jelly, spread, canned, and candies loveable in all forms.
Pineapple waste serves as fodder for the animals. Enjoys fame all over the world. The production cost is low as compared to other farming's.
Pineapple needs no introduction. No separate marketing strategy is required.
What else you need!!! Just go ahead with your pineapple farming. Surely, you can create magic with your pineapple farming.