Chillies are so versatile and easy to grow at the same time. It is full of flavor, heat, and colours. These bright-colored chilies can be delicately mild or fiercely hot depending on their variety. They can be easily grown in home gardens and even in sunny windows by your kitchen. Containers can easily hold chilli plants. 
It is very commonly grown in houses and the main thing that people talk about is the starting. And starting refers to the question, how to germinate chilli seeds? 
If you want to plant chillies at home, first you must be aware of popular varieties of chilli seeds. A variety of chilli seeds can be rated based on their hotness.
Chillies contain capsaicin, a material that determines the hotness in chillies. They get their characteristic pungency from capsaicin. Capsaicin stimulates nerve endings in mucous membranes in the body of organisms. That is the reason why it feels hot when you bite chillies.
The amount of heat in a chilli varies with different varieties. Further, it is also affected by maturity and growing conditions. Few varieties of chilli seeds are sizzling hot while few can be very mild or delicate.
The heat of chillies can be measured by the Scoville scale. In 2017, a welsh fruit grower named Mike Smith grew the hottest variety of chilli, accidentally. The value of hotness on the Scoville scale was 2.48 million. The name of that variety is 'Dragon's Breath'. One bite of this chilli variety is enough to give the person an anaphylactic shock.
Few varieties of chilli seeds are mentioned below-
Big Bomb F1- it has medium heat and is round in shape. It is great for stuffing and baking.
Jalapeno M- Medium heat is observed in this variety. It is great for salsa and toppings on pizzas.
Padron- these chillies are generally picked when they are small and green. It is because greener chillies are at lower stages of hotness. To obtain hotter and red chillies, you can wait for some time and then pick them. It is great for stir-fries.
Hardware improved mix- these beautiful looking chillies are hot and ornamental too.
Demon red – they are hot and dwarf chillies. They are bred for making them suitable to grow on windowsills and containers.
Tropical heat- this variety is extremely hot. It is a mixture of red and orange Caribbean and yellow and red Scotch Bonnet.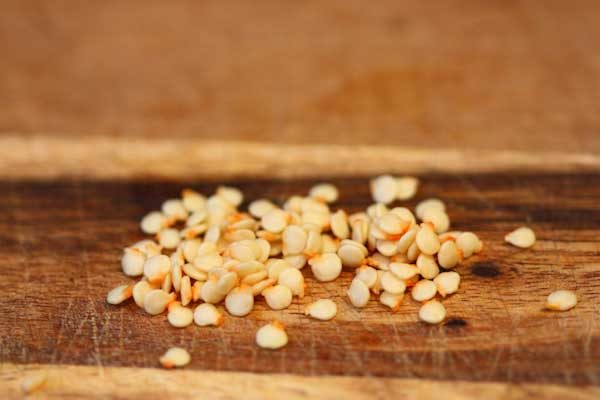 Bright color combinations in chillies make them ornamental. These beautiful looking plants can be a perfect decorative piece.
Varieties like black pearl pepper and bishop's crown pepper are beautiful and can be used for decorative purposes.
Now that you are aware of what variety suits your needs, you need to be aware of further steps.
So, January and February are the best months for sowing seeds of chillies. They grow best in hotter climates.
You can easily sow them indoors in Jan and Feb. It gives your plants plenty of time to mature before the end of summer. Longer growing periods make chillies hotter and spicier.
How to germinate chilli seeds?
It is very easy to grow chillies and begin their growth at home too. 
The first step is to use well-drained and fertile soil for the best chillies. Place soil in a seed tray or a 10cm small container. The main point of planting seed indoors is to give them plenty of time to ripen before hotter months end. in colder months, yield decreases dramatically.
Soil can be mixed with moist compost to increase its nutritional value. Sow seeds on top of the soil and cover them with a layer of vermiculite in compost.
Now, you must know that the germination of chilli seeds occurs best at warm temperatures. Therefore, either place them in a propagator with temperatures ranging between 18-25C or can cover pots with polythene to retain heat. 
It takes around 7-10 days to germinate chilli seeds. Warmer climate fastens the germination process. Germination time for chilli plants can be as long as 6 weeks depending on the variety of chillies. 
Jalapeno takes 1-3 weeks for germination. However, habanero seeds take 6 weeks to germinate.
When it germinates and grows into a seedling, you can keep them in a sunny window and give your chilli plants a dose of sunlight every day. 
The soil used should not be too wet or too dry. Ensuring proper moist soil for chilli plants is appreciable.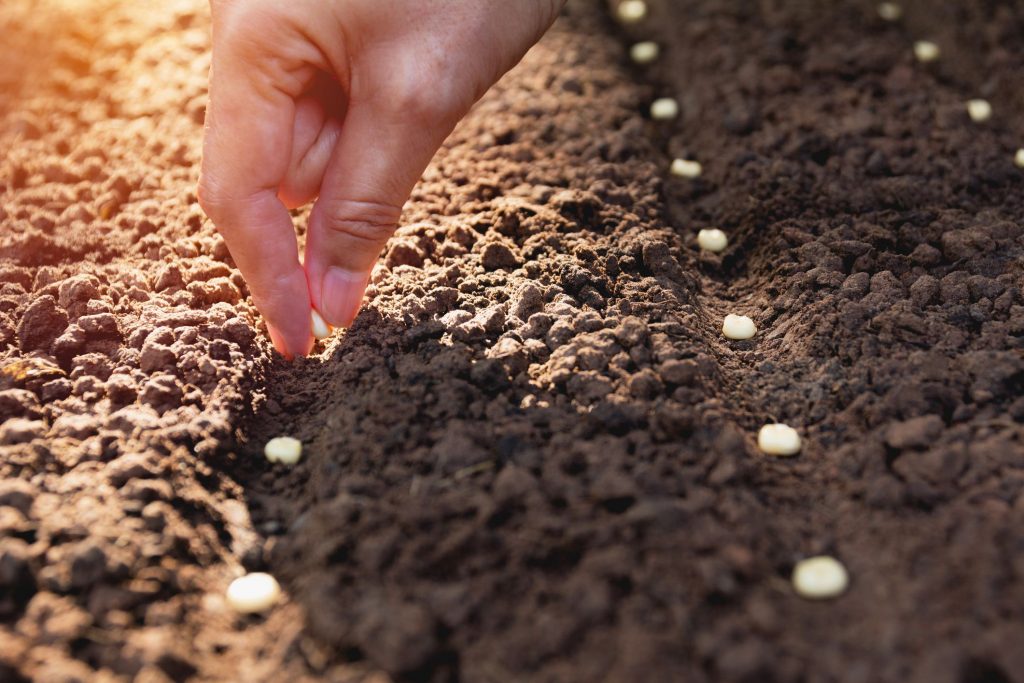 Chilli seeds not germinating.
Here are a few reasons why your chilli seeds are not germinating. 
Poor seed quality- As seeds age, their ability to germinate quickly decreases. After 3 years or more, seeds become almost useless.
Lack of moisture- water is necessary for seeds to sprout. If you do not provide water to them regularly then do not expect any germination.
Very Hot weather- very high temperatures can kill seeds.
Very cold temperature- cold temperatures do not let seeds germinate.
Heat and moisture requirement for germinating seeds
Heat and moisture are the basic two things which if changed can damage seeds and even kill them. Therefore, creating optimum conditions is necessary.
The germination temperature for chilli seeds is 27-32C. As we are opting for germination indoors, keep them on the airing cupboard or top of the fridge to provide additional heat. More Heat will fasten the time of germination. But keep in mind that increasing temp above 38C will damage them severely. 
Must Read: Chilli Flowers Dropping Off – Plant not flowering
You can also buy a heating pad for your chilli seeds.
Moisture makes the pods soft and sprouting easier. It speeds the process of germination. Do not add too much or too little water to seeds. Both Of these conditions can lead to the death of seeds.
Get a mister or spray bottle for watering seeds.
Germination of seeds using a towel
You can also germinate chilli seeds with the help of paper towels. This way if germination is functional and simplest at the same time. It speeds the process of germination.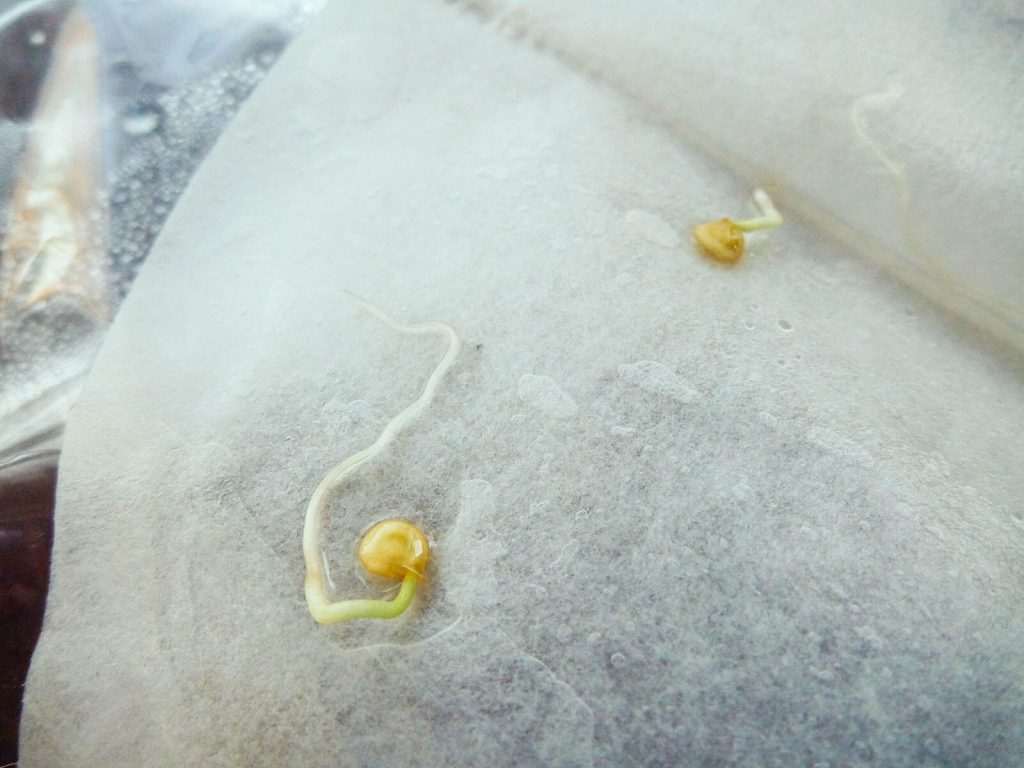 Process of seed germination-
First, take a damp paper towel. You take a clean and dry one and then spray it with water. Do not just dip it in water, it will make the whole process useless.
Scatter seeds on a damp paper towel and then place another one at the top of it. The damp paper provides enough moisture to seeds for completing germination easily.
Seal the paper towels in a plastic bag with a zip lock to seal them.
Leave them from 2-5 days in a warm place with temperatures from 23-30C.
If you are performing in this warm climate, you can even leave them outdoors.
After germination is completed, take seeds and place them in seed trays or pots with compost filled in it. Avoid using garden soil. It contains pests and fungus and causes diseases. Fertile and good quality compost is preferred.
Further, spray it with water or use a mister for the same.
Transplantation of chilli seedlings and growth
Before transplanting, you must be sure about the condition of the plant. You can transplant chilli seedlings when they are strong enough to handle and do not break when touched.
Make sure the temperature conditions must be favorable for their growth. Frost can harm chilli seedlings. Therefore, waiting till frost ends can be better.
You can place seedlings in pots or grow bags too. Before directly planting seedlings into the ground, you should give them a taste of outdoor conditions daily by placing them outdoors for at least an hour for a few days.
Now when they are completely prepared for outdoor conditions you can place them in a field or your home garden. Make soil fertile by the addition of compost or fertilizers. Soil should be moist and well-drained. Loamy soil is not suitable for growth of chillies.
Next plant them 50 cm apart from each other. Overcrowding can lead to stress in chilli plants and it also affects crop yield.
In the growing season, regular watering should be ensured. However, when they mature, you keep them a little dry to make chillies a little hotter. Further, the addition of potash tomato fertilizer is preferred weekly after the appearance of chillies on the plants.
Tip- tips of the first flowering shot should be pinched to promote branching. Moreover, it also makes crops better and more flavourful.
To add to this, staking of taller plants is advised. Weeds can challenge plants and be competitive. Therefore, use a mulch to suppress weeds near plants. Plus, mulch retains moisture in the soil and this is beneficial for chilli plants.
If you are practicing chilli farming indoors then keep windows open for sometime in a day. First, plants love air circulation and moving a little every day. Opening windows will cater to their need for wind. Second, it will attract insects and ensure pollination. 
Next, you can also perform hand pollination from flower to flower by yourself. You can use a painter's brush and brush flowers a little to collect and transfer pollen from one to another.
Harvest of chilli plants
Chilli plants must be harvested before colder months. Chilli Plants favour long sunny days for better growth. Cold temperatures can spoil hotness and the whole crop in total.
Early sowing in January or February gives plenty of time for chillies to mature before cold seasons arrive. You can sow them directly into the soil in March or early summers.
In the UK, sowing late is not good because summer does not last long. If your region experiences a short summer too, then plant in Jan and Feb.
Chilli plants are ready for harvesting in July. You can pick chillies whenever you wish and wait for your chilli plants to grow more of them. Isn't that amazing. You will be surprised by how much crop yield you get with this method.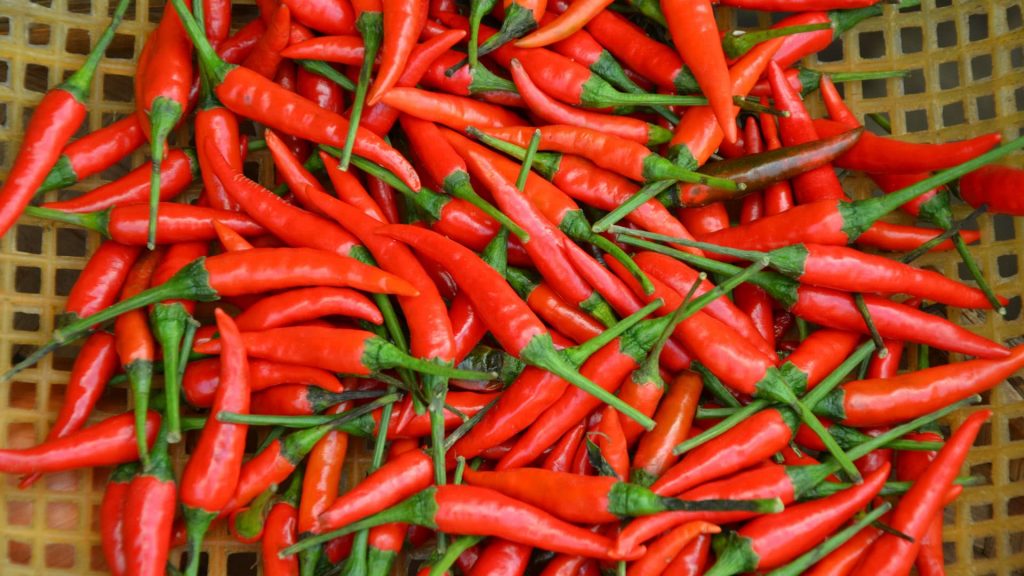 Further, if you want dry and hotter chillies, then leave them for more time on chilli plants. Let them turn red and wait. In this way, they will mature and produce more intense flavours.
If the colder season arrives and your crop does not ripe, transfer them into pots and take them indoors. Place them in warmer conditions like sunny windowsills or the greenhouse for good results.
Harvesting can be done by picking chillies or cutting them using secateurs.
How to store chilli seeds?
You can follow two steps for storing chilli seeds. Either dry them out or freeze them.
Drying chillies- take a thread and pass it through stems of chillies. Make a chain of it and hang them in a warm and ventilated place. Leave them there for 4-5 weeks. During this time, they will dry completely. Then, place them in containers or bags and use them as you wish.
Freezing chillies- freezing chillies can preserve them without loss of flavour. Though it will lead to softened flesh flavour and taste stay intact. Put chillies in plastic bags and close them properly, then place them in the freezer and use them when necessary.
Health benefits if chillies
Chillies contain a lot of nutritional components and are rarely harmful. Red chillies contain large amounts of vitamin C. Provitamin A beta carotene is present in other species of red chillies.
Vitamin B6 is also found in chillies.
Next, they help treat nerve disorders and alleviate pain in arthritis, psoriasis, and diabetic neuropathy.
Cholesterol levels and triglyceride levels can also be controlled with the help of it. Also, it increases our ability to dissolve fibrin. Fibrin leads to clotting of blood and that can even lead to a heart attack or death.
Next, the spiciness of chillies can help clear mucus secretions from stuffed up nose or congested lungs. 
The high content of vit A and C can help in increasing immunity in organisms.
Eating hot chillies takes energy which forces you to burn calories. So it can be a great way to lose some weight.
Therefore, it is evident that eating these spicy and hot chillies won't go in vain.
Planting and growing these versatile chillies is so fun and an easy process. Who knew one could find peace in looking at these beautiful plants grow. Growing chillies is interesting and easy at the same time. Getting benefits for harvest can't be matched. So do not wait and start planning. These chillies will make your home garden look more beautiful than ever.