Friend's today we are adding a new member to your farming list. Ivy gourd farming is new on the bucket list. You will be glad on knowing the benefits it adds to life.
This cucumber-type appearing vegetable belongs to the Eastern part of Africa. It is also cultivated in the tropical part of America, Asia, the Pacific, and the northern part of Australia.
It is also popular by the name of the scarlet gourd. Ivy gourds are inclined towards climbing.
You can find the most commonly used in Indian dishes. But it is adored and relished worldwide for its contribution to health.
To find out what Ivy gourd farming is? This article will cover every nook and corner related to Ivy gourd farming.
Types of Ivy gourd
There are only two types of Ivy gourds: Striped and non-striped.
Soil, Climate requirement, and land preparation
For good Ivy gourd farming, you must have sandy loam soil enriched with nutrients. It should also not waterlog.
You should restrain from using acidic, alkaline, or other sorts of heavy soils. The PH range of 6-6.5 should be maintained.
A humid and warm climate is what these ivy gourds love and crave. The temperature range should fall between 20 to 32 degrees for a good yield.
Though the Ivy gourd cultivation can be done at any point of time during the year. For amazing results rainy season or warm weather is preferred.
No great efforts are to be made for getting the land ready for cultivation. Just thoroughly plowing should be done to entangle the soil and check for weeds, if any.
After that, a good quality manure should be applied to the soil. The ground is now ready for Ivy gourd cultivation.
Also Read: Radish Farming: Planting, Harvesting, & Diseases
How to plant Ivy gourd
Vegetative propagation is the planting style popularly practiced in Ivy gourd cultivation. The propagation is processed either using stems or by seeds.
But through seeds they take at least a year to reach a plant. When opting for stem cutting propagation, you should fix the width to 2 cm and the length to 20 cm of the stem.
Those stem cuttings should go 6 cm deep into the soil having a basin width of 60 cm. And the same way you can proceed with other cutting while maintaining a gap of 2 cm. This is the way how to plant Ivy gourd in the field.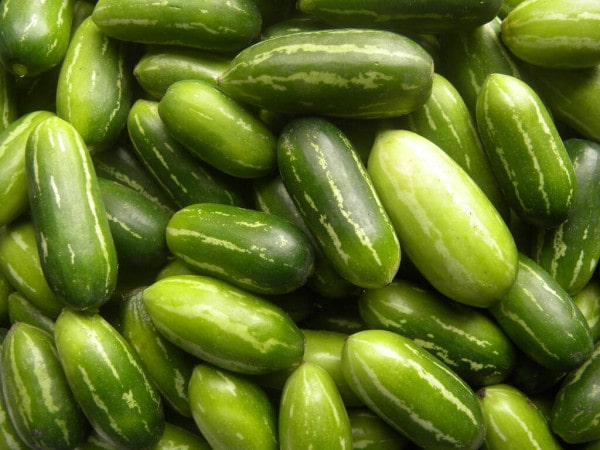 How to grow Ivy gourd from seed
How to grow Ivy gourd from seeds is an interesting process. Get some scarlet gourds from the supermarket and cut them to remove the seeds.
After this, you can immediately sow these seeds, without stressing about the weather conditions. That means they can be planted at any time just to avoid scorching summers.
Remember, the temperature range between 15 to 27 degrees work wonders and promotes sprouting at a faster rate.
Though, planting can be done through seeds also but it is not a good idea. There are harms of adopting this procedure.
There are chances of disagreement between the seeds and true fruit. And it is evident to end up without any fruit, for you need to plant female and male plants next to each other.
Must Read: Snake Gourd Farming
Season for plantation
The Ivy gourd cultivation should be done before the onset of rains or in the spring season. As these are perennial, so replanting should be done at least after 4 years. There must be 2 metre bamboo stick should used to render support to the plant.
Ivy gourd plant care
A proper Ivy gourd plant care ensures a good quality of Ivy gourd. Following things should be kept in mind while taking care of the plant:
Spacing: The spacing pattern remains the same as cucumber plants. At some point in time, they start searching for a company and tend to get attached.
Weed Control: During the early stages of Ivy gourd cultivation weeding is a must to do activity. As it is inclined to reproduce many other small plants and twigs effect the plant growth.
Water Supply: At the budding stage, it should be watered properly. Once attaining growth, the water supply can be stopped.
Pruning: This adds life and energy to the plant. After pruning, don't dump the cut branches and small twigs as can regenerate.
Pest Control: The major enemies of Ivy gourd cultivation are Thrips, mites, Aphids, and Whiteflies. Their spread can be checked by treating them chemically.
Harvesting Ivy gourd farming
These scarlet gourds are ready for harvesting in a 3-month time. A hand sickle or a cutter is an advisable tool to be used owing to its small size and to avoid any damage to the vine.
This harvest results in a yield of 12 to 15 tonnes per hectare in Ivy gourd farming.
Benefits of Ivy gourds
Diabetes control: The leaves of this plant when consumed in a raw state helps in controlling the sugar level in the blood.
Checks obesity: It keeps so obesity free by accelerating the metabolism rate.
Reduces fatigue: Rich in iron provides a backup for energy level. As it reduces the iron deficiency in the body.
Corrects the functioning of the nervous system: Ivy gourd is a bag full of nutrients and vitamins which are associated with the healthy functioning of the nervous system.
Conclusion
There is nothing much to discuss Ivy gourd farming. One thing is clearing its farming is not very much profitable like other veggies.
Still is not a bad idea to go for Ivy gourd farming. Not on a large scale but can be executed profitably as a small-scale farming option.
Go ahead and do share your Ivy gourd farming experience. Stay connected for more updates.